Deliver island specialty products
Deliver island specialty products
Due to popular demand, extension decided!
Delivery from the island.Nautical"Work and marche"
Sea of Japan, floating in the north of the Shimane Prefecture, one of the Oki Islands, Ama-cho
It is a small island with a population of 2300, and the culture of polite work that has been handed down since ancient times is still rooted in this area.

The blessings of the mountains bathed in the warm sun of the island and the blessings of the beautiful sea are more than feasible.

This time, we visited each producer and asked about their passion, "work."
Sweet and fragrant vegetables made without using pesticides and chemical fertilizers, high-quality fat Oki Beef grazing and grown on the island, rice that is delicious even when cooled, salt taken from the beautiful sea of the sailors ...

We packed a box full of island special products that we can truly recommend.

In this "Marine's work and Marche", we will deliver the product with the story of each producer.
Let's enjoy the feelings of each producer, which spread in the background of "delicious!"

It would be our greatest pleasure if you could feel the excitement and excitement of coming to the lively Marche on the island when you opened the box.

About the contents of delivery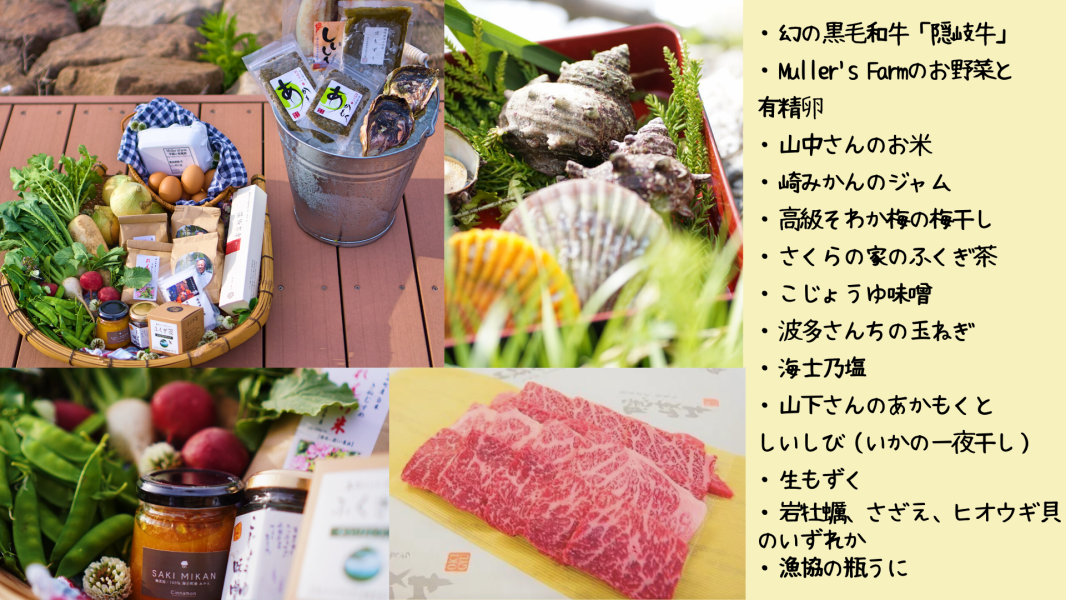 Yamanaka-san's cool enough! Set comparison of eating Renge rice and Koshihikari from the island

Mr. Yamanaka was born and raised on this island and has been involved in rice production since childhood.
We make rice called "renge rice".

Renge, which makes cute flowers bloom, has the property of storing nitrogen, which is an important nutrient of rice, in its roots.By cultivating seeds of green beans in the rice fields after harvesting the rice, and after making the flowers bloom, the rice is grown with less chemical fertilizer.

Mr. Yamanaka's kind personality keeps the youth in mind who wants to teach us how to make rice!
This time, I will add two types of rice made by Mr. Yamanaka, who laughs and says, "It's cool enough!"Yamanaka's self-confidence work, "I don't know which one I like."

Passion farming.Set of vegetables and fertilized eggs from Müller's Farm

Mr. Muller grows vegetables using passion farming.
After migrating from Germany to this place 12 years ago, I have been developing fields from 1 and face nature every day.

Muller's delicious vegetables made without using pesticides are loved by restaurants and homes on the island, and are very popular.
Since they are carefully hand-made one by one with the natural power of nature, they cannot be mass-produced.
I want everyone nationwide to know such precious vegetables.

Enjoy the fragrant vegetables bathed in the warm island sun and nutritious fertilized eggs with your five senses.(The vegetables may differ from the one shown in the photo depending on how the vegetables grow.)

Tangerine jam packed with deliciousness

Ama-cho started in 2013 in the Saki district at the southernmost point of Amamachi. "Saki Mikan Revival Project"The start was to take over the mandarin orange farm in the neighboring area and grow seedlings.

The producers Mr. Shiraishi and Mr. Tango moved to Ama-cho for this project.
It was last year that the two of us started harvesting mandarin oranges from the trees planted in the Saki area.

The beginning of this jam was the opening of a temporary café by Shiraishi's wife and Oumi, who are in the processing department, processing damaged oranges that cannot be shipped.The decisive factor for the deliciousness of jam is. "Pack all the deliciousness"
It's smooth and the flavor and taste of mandarin orange is alive.
Not only is it applied to bread, but it goes well with yogurt.

Increased immunity! Yamashita-san's frozen akamoku and big shiishi(Squid dried overnight)

Yamashita, who is doing the processing and sales of akamoku and squid in the "house Matsushima of the sea" in the Ama-cho
Akamaku is a seaweed of the same brown algae as seaweed, kelp, and mekabu.

Rich in nutrients, calcium is 5 times as much as mozuku, iron is 5.2 times as much as wakame, potassium is twice as much as wakame, vitamin C is twice as much as wakame mozuku, and fucoidan content is the highest level among seaweeds.
is.If you cook with ponzu and put it on rice, the akamoku rice bowl is ready!
A large squid is dried overnight and is called "Shishibibi."Roast it on the stove and put mayonnaise on it and it's the strongest snack!

Ama-cho,Sazae,Rock oyster

From the fresh shellfish collected in the beautiful sea, we will put the most delicious one of the time!
·A colorful and richly flavored sea mussel
·Crispy delicious Sazae
·Brand Oki oysters(Until early June)

Phantom Japanese black beef.Born in island,Island-raised,Oki Beef

About 1200 cows are born annually on the island, but they are thoroughly bred as "Oki Beef" and about 10% of them are on the market.It is exactly an imaginary black hair wagyu.

The conditions for "island-born, island-raised, Oki Beef"
·Oki-no-Shima Island Ama-cho, Nishi-no-Shima, chibu, Oki Island the town Oki Island cow that was born and raised heifers in
·Those with a meat quality rating of 4 or higher by the Japan Meat Rating Association
·Oki Beef shipping certificate issued

This time, we will put such precious meat in a platter for Yakiniku!
Freshness is life! Please consume within 1-2 days after arrival.
※The part may differ from the photo.

High-grade Sowaka Plum plum "Sowaka Plum Ume" (Sowaka Plum Ume), individually packed with 5 capsules

Umeboshi, made in the Saki area, is made with pesticide-free plums and is additive-free.
Under the blue sky, they are turned over one by one by hand and dried for earth, then put in a turtle for more than 3 years to be pickled.
Confit salt is also natural salt of dried fish, Ama乃塩.It is a sour, sour, real Umeboshi.
Sowaka Ume, Nosowaka is a Buddhist term meaning "lucky."

Take a rest.Island tradition, Fukugi tea(Tea bag)

Fukugi is a deciduous shrub that grows in the mountainous area called the camphoraceae kuromoji.
It is called "Fukugi" in the Oki Islands.
In the old Ama-cho, there was the habit of drinking this tree boiled, as a tea.

The Fukugi tea we deliver this time is a Fukugi tea blend of twigs and leaves.
It has an antibacterial effect and has a healing forest scent, so you can enjoy it as a refreshing herbal tea like lemongrass and mint.
"It would be great if the person who drank this smiled and came to play in Ama-cho when he was released from the self-restraint mood," said Honda.
It seems that the recommended way to drink is to make shochu.This time I will put on the leaflet of the producer Sakura no Ie (house)!

A gift from the beautiful sea"Ama乃塩"

Use a clean almost Miwan of seawater was elected to the 100 best famous waters of Japan Tengawa no Mizu flows, natural salt that is crafted in the traditional hand work, is it Ama乃塩.

The whole process takes about 1-2 months.

It has a crisp taste and the grains are fine and moist.
It is excellent when shaken on grilled Oki Beef and eaten.

A secret seasoning on the island ~ Kojoyu Miso ~

"Kojoyu Miso" is a food that has been handed down in the Shimane Prefecture and Oki-no-Shima Island Islands for a long time.

There was no soy sauce brewery on Oki-no-Shima Island in the past, so soy sauce was not available.
Therefore, this is miso that has been prepared and used in each household as a substitute for soy sauce.
Like soy sauce ... Like miso ... Such a mysterious seasoning.

Even now, it is an indispensable presence on the dining table for islanders.

Instead of soy sauce, sashimi, stir-fried food, grilled fish, tofu.
Instead of miso, use raw vegetables, rice balls, or white rice.
We recommend the Kojoyu Miso grilled rice balls baked on rice balls! Try it out!

Eat it raw! Hata-san's onion

Hata-san's new onion, which runs the largest field on the island.

The recommended way to eat is an onion salad, which is sliced and swished in water, then dressed and eaten! If you have a strong spicy taste, chin it in a little range ◎

New large onions are rich in water because they are sent immediately after harvesting.It will last longer if stored in the refrigerator.
※The contents may change depending on the growing condition of the product.The photograph is an image.Please understand.
【Product content】From the following products, we will literally put "a box full" of seasonal special products! Delivery of 11 to 12 items.
·<Müller's Farm>2-3 kinds of vegetables and 6 fertilized eggs
·<Yamanaka Farm>Set of 2 bags of Renge rice and Koshihikari rice(1 bag / 450g)
·<Kawachi Fisheries>4 M size rock oysters(With knife)※
·<Sea Station Matsushima>2 bags(1 bag/150g)
·<Ama-cho Machizaki Processing Department>Tangerine jam 1 bottle / 140ml
·<Island born and raised island Oki Beef shop>Oki Beef (slice for roast meat) 300g
·<Sowaka Plum production association>Luxury Umeboshi "Sowaka Plum" 1 box / 5 pieces
·<Sakura no Ie (house)>Fukugi tea bag 1 box / 15 bags
·<Furusato Ama>Dried fish natural salt "salt Noriyuki Ama 1 bag / 40g
·<JA Shimane>Kojoyu Miso 1 bottle / 100g
·<Nakashinya>About 4 new onions(Depending on size)
·<Ama-cho Fisheries Cooperative>Big shell※
·<Ama-cho Fisheries Cooperative>Sazae※
·Ama-cho's delicious souvenirs

※Items that can be delivered, such as Sazae and Hiogai, will vary depending on the weather and water temperature at the time of shipment.
We hope you will understand the difficulties of living with nature.
(※The handling of oysters ended in early June.)
※We will put frozen products in place of the ice packs.
The delivery to your home the specialties of Ama-cho this time!
We packed 100 delicious foods to the last minute until the lid closed.

The price is 15,900 yen (including shipping and tax).

This price includes shipping.
Please spend a delicious time with your family.

All products will be shipped by Yamato Transport Refrigerated Mail.
Some items have a short expiration date, so please be sure to receive them.
Departs from Ama-cho every Friday, with a minimum of Saturday afternoon arrival.

The following is one flight in September.Enjoy everyone at Silver Week!
·9/19 ㈯ Arrival Flight

※Arrivals after Saturday afternoon. If it is specified in the morning, it is Sunday morning.
※The earliest arrival date.For the table below, "Regions where some products cannot be delivered", the arrival is Sunday.

Some products may not be delivered in some areas.Please check from the table below.
Due to the expiry date, this product is shipped without Oki Beef.We will put your souvenir Hinto of Ama-choPlease understand.
The shortest is Saturday arrival.It may take the next day depending on the delivery status and your location.Please understand.
Areas where some products cannot be delivered
※We apologize for the inconvenience, but due to the expiry date, the following areas are shipped without Oki Beef.We will put another product.
In addition, we cannot deliver to areas where cool mail cannot be shipped.
Please understand.

<Target areas where some deliveries are not possible>
Hokkaido,Tohoku area,Izu Islands,Ogasawara Islands,Part of Niigata Prefecture (Awashimaura Village,Sado City),Part of Nagasaki Prefecture (Ojika Town,Goto city,Hirashima, Sakido Town,Ejima,Oshima City Matsushima,Uku Town,Kuroshima Town,Takashima Town,Tsushima city,Ikeshima,Oshima Village,Dejima Town,Aoshima exemption from Hoshiga Town,Takashima Town Kuroshima Exemption,Minamimatsuura District),Part of Miyazaki Prefecture(Shimaura Town),Part of Kagoshima Prefecture (Amami City,Nagashima Town Lion Island,Oshima-gun,Kagoshima District,Kumage,Village town,Kamikoku-cho,Shimotsune Town,Kashima Town,Nishinoomote City),Okinawa Prefecture
"Handiwork Marche of Ama" is, we have received sponsorship to Ama-cho